Small businesses are the heart of any community, and West Michigan is no exception. It's more important than ever to shop locally and support those who enrich our community through their entrepreneurship, spirit and creativity.
In this Small Business Spotlight, we sat down with Chesley Roscoe, Founder and Owner of local booming charcuterie business Say Cheese GR, to get to know more about her business, what it offers shoppers and why she's passionate about food presentation.
Tell us about your small business and what types of products and services you offer!
I launched this business on April 18, 2020 on a whim in the middle of the pandemic after being furloughed from my corporate sales job. When I realized how much time corporate America was keeping me from my three-year-old daughter, I made the decision not to return. This came just two short months after launching Say Cheese GR, which completely exceeded my expectations.
I've got an extensive history of working in the restaurant industry, and have always had a passion for not only food, but for making food look pretty. While taste is important (and yes, these boards are just as good as they look), presentation truly is everything. Say Cheese GR offers cheeseboards big and small—from individual boxes, to six-foot grazing tables. Whether you need something to bring to a girl's night in, or are looking for something elaborate and delicious for your wedding cocktail hour, Say Cheese GR is ready and able to cater to you and your cheesy needs!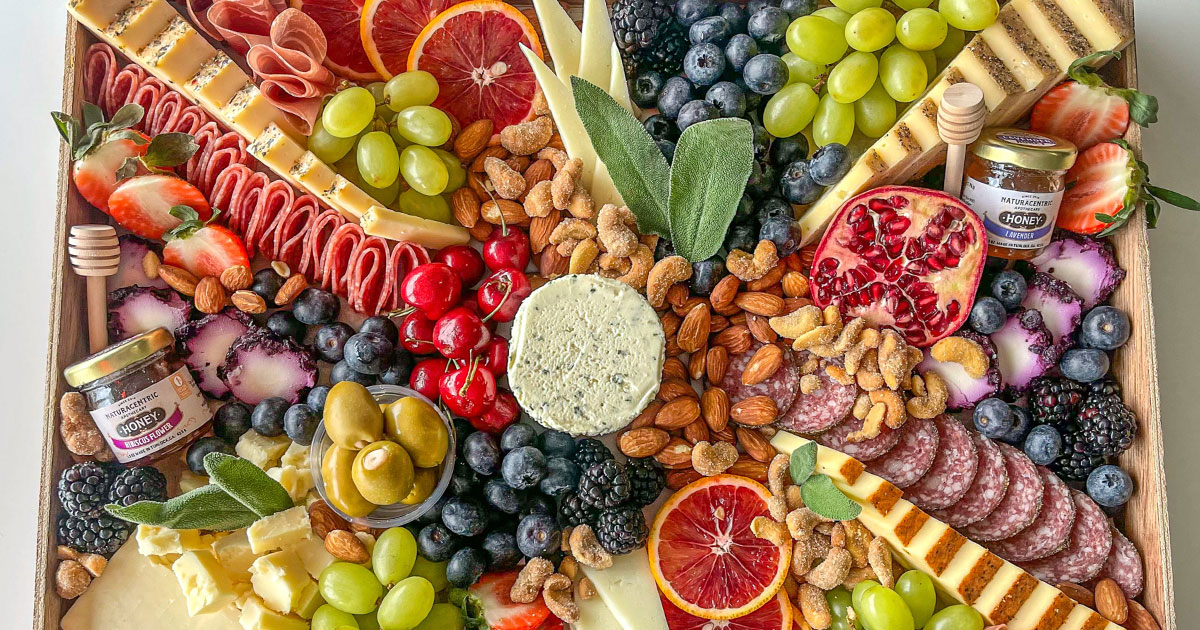 Share a bit about what makes Say Cheese GR unique!
When ordering a board from Say Cheese GR, you can count on it being one of one; no board is the same, and that's what makes my small business unique. There's not a set menu for you to choose from. When ordering a board, a questionnaire will come up for you to fill out. This is where you have the ability to customize your board by providing specific likes and dislikes. I'll then create a unique board for you based on your specific flavor profile/preferences.
What makes you passionate about what you do?
I've been a part of so many important events. Whether it be Christmas morning or a wedding, seeing my boards in the middle of my customer's table is so rewarding. My boards are a conversation starter and they bring people together. It will never get old—I truly love what I do! This job is also so rewarding because it has given me time at home with our daughter that I know I wouldn't have had if I didn't make the leap out of corporate America. Spending more time with her means the world to me, and it's so rewarding to know that she understands the hustle of having a working mom.
What's your favorite part of owning a small business?
My favorite part of owning a small business is having the opportunity to work and partner with other people and businesses within my community. I have built some amazing relationships with other businesses that I have an immense amount of respect and admiration for, whether they're big or small. The "pinch me" moments never get old!
In addition to choosing to shop local when possible, how can the community support small businesses like yours?
Supporting a small business is easier than you think! You don't have to pay a single dollar to support small businesses like mine. Word of mouth is huge and really helps spread the word, and likes/follows on social media always help, as well. Being intentional and choosing to shop small means the world to us small business owners. You are truly supporting someone's passion and dreams!
With the holidays approaching, is there anything specific shoppers should be aware of?
With the holidays approaching, more lead time when placing an order is always appreciated. The holidays are a crazy busy time for Say Cheese GR. Placing your order in advance rather than last minute will ensure that we have the availability to accommodate your order!
Where can people find you/shop your products/services?
You can learn more about Say Cheese GR and place an order on my website (saycheesegr.com). We are also on Facebook and Instagram (@saycheesegr).
Anything additional you'd like to add?
I cannot express enough gratitude to my customers and supporters within our community. Whether you continue to order from me year after year, or if you are a supporter from afar, Say Cheese GR would not be what it is today without you all! Thank you for over three amazing years! We're just getting started.
Written by Sarah Suydam, Managing Editor for West Michigan Woman.
Photos Courtesy of Arianna Zimmerman Photography and Say Cheese GR.