Customer service always has been and always will be critical for business.
Yet one local West Michigan business strives for customer service excellence by putting employees—not customers—first.
Open Systems Technologies (OST) operates on an "employees-first" business model. Honoring employees is among the company's five guiding principals. Those principals—which also include delighting clients, serving with humility, embracing entrepreneurship and innovation, and learning through curiosity and empathy—are found on cards throughout the office.
OST isn't shy about its priorities. It's right on the website: "We honor our people and their families first, clients second and the rest will fall into place."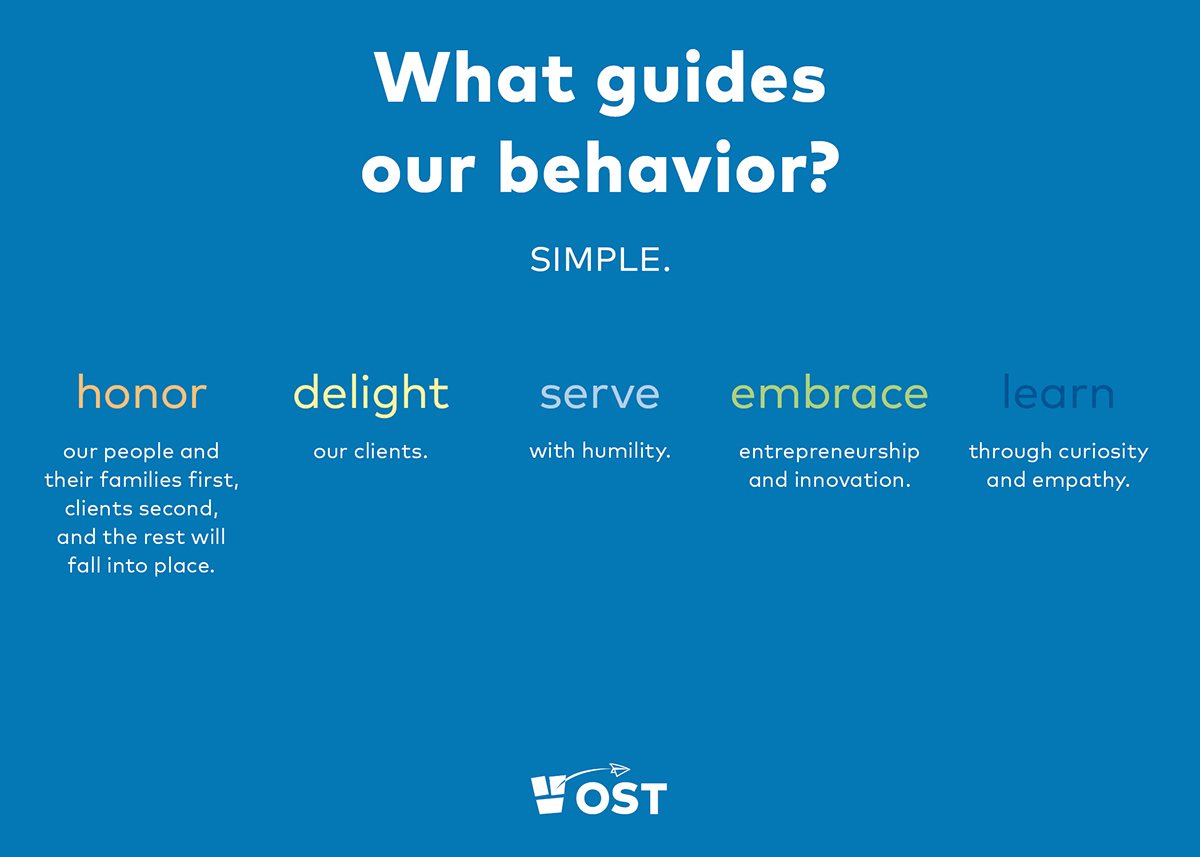 What does it mean to honor employees?
"Honor isn't something that the business provides to you," said Meredith Bronk, CEO and President. "It's behavioral. It's something we all represent."
Bronk has worked at OST for 20 years, serving as CEO since 2014. In January 2003, she and six other employees purchased the company and sat down to articulate and codify their core values. The conversation wasn't about deciding what they wanted their values to be, but where their values already rested.
They were asking themselves what guided their behavior.
What they found?
"Our first obligation is to take care of each other," Bronk said. "It always has been and always will be."
That obligation to care for one another—that honor—is showcased in a variety of ways.
At the end of every quarter, Bronk sits down with each new employee, one-on-one, for lunch. She always asks how that employee has felt honored since starting with OST. Sometimes, it's something seemingly small and insignificant. "You know my name," one employee told Bronk. Other times, it's a gathering on the rooftop to bounce ideas off one another on how to best solve a problem. The wild stories come out in times of crisis: An employee had a gallbladder attack while on an assignment in San Francisco; OST flew his wife out so she could be by his side.
"We have a job to do because we have a business to run, and we all take serving each other and our clients very seriously," Bronk said. "But I coach my daughter's travel softball team. Honor means that I don't worry when I sign up to coach my daughter's softball team that I'm going to be able to meet those obligations."
Does that mean she'll be at every practice?
"No, because I have a job to do. But it does mean that I know it's my decision to make—that I can take care of my family and my work in a way I have the maximum potential to do both well."
But this is business. Where is the value?
"What's good for us is good for the business," Bronk said. "They work very harmoniously."
OST's guiding principals are part of the company's equation for success: If OST hires individuals whose values align with company principals and has access to customers whose values align with company values, OST will be healthy, successful, profitable, growing and sustainable.
And when that equation doesn't work—as Bronk notes, "we all have seasons in business when profitability is low or something feels off or we're not hitting our numbers"—they go back to the equation and ask if they have people who align with their values.
"People who contradict what you're trying to foster either have to be brought along or gone. Not following that equation isn't an option. That's why people came to work for us. Our ability to stay true to who we are allows for trust in those moments, so that as those seasons happen, people don't overreact: They band together."
Isn't the customer always right?
"If a customer isn't delighted, they're not wrong," Bronk said. "We have to fix that."
"It's not about who's right or wrong," added Michael Lomonaco, director of marketing and communications. "It's a humbling 'Help me understand why you think that.' From there, it's a discussion. Maybe a compromise. It creates an opportunity, rather than a vacuum of thought."
Yet if the solution becomes a contradiction to honoring employees and their families, OST prioritizes its employees.
The conflict doesn't happen often. In the past 15 years, OST has only walked away from one account. "They didn't treat our team the way we believed our team needed to be treated. It was hostile, at best," Bronk said. "That's really where the rubber meets the road."
It's about authenticity.
Whether an employee, customer or organization, everyone has a choice with whom they work and do business. OST's employees-first business model may not be the answer for everyone.
"I think it's important first to understand who you are as a company as your own personality," Bronk said. "Collective groups of people have a personality."
The business model stems from that personality. Honoring one another is how OST, its employees and its customers best operate.
"You get to bring your whole self to work," Bronk said. "In a time and industry where innovation and thought leadership and creative new ideas are absolutely critical, bringing your complete self allows you to fully enter those conversations of innovation. Diversity of thought. Diversity of ideas. Debate. Disagreement. Honor is disagreeing. Honor is: I love you and I want to know if you think my idea is stupid. And it might be!"
Or it might not be.
OST is a 21-year-old-technology company partnering with companies on digital strategies. OST thrives on innovation and entrepreneurship.
"The idea of what we're doing externally and how we run our business internally is married," Bronk said. "We want to change how the world connects."
Written by Cassie Westrate, staff writer for West Michigan Woman.