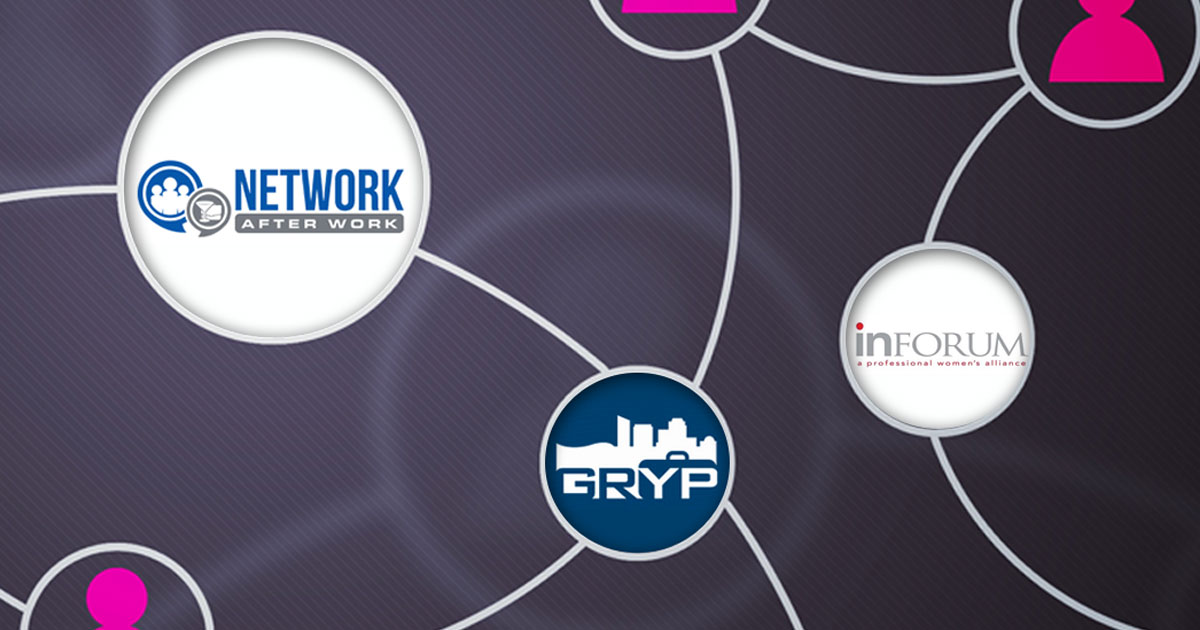 We have an in-house networking busy bee at our office. She's constantly forwarding us invitations to cocktail hours, meet and greets, and even bowling leagues. At this point, we could probably canvas the city of Grand Rapids in a single week and cover every professional organization, meeting, and person of interest based off of her information alone.
Unfortunately, not everyone has a social unicorn at the workplace. Not to fear! You have a magazine and website full of interesting pieces like this to get your network on. There are plenty of opportunities in West Michigan to take advantage of—and all it takes is some browsing.
Start with the Network After Work Grand Rapids chapter. The parent company hosts meet-ups all over the country; the GR chapter is very active. It hosts events in the city, and another is coming up later this month! Network After Work will happen Tuesday, August 25, from 6 – 9 p.m. at HOME on Monroe Avenue, and will feature light appetizers and drinks for professionals wishing to connect with their peers.
If you're younger and searching for a few career-focused friends, Grand Rapids Young Professionals is an active group for those 21 – 40 years old to network professionally and socially. Events include bowling leagues, West Michigan Whitecaps games, and other activities.
For YoPros in nonprofit work, the YNPN meets for networking purposes. You get a similar experience as at GRYP (above), but with likeminded professionals working toward a higher purpose.
The green thumbs and hearts of West Michigan can join The Stewardship Network Great Lakes, which covers conservation efforts, education on invasive species, and more. One Sunday of every month, it features a park in one of the eight counties the West Michigan Cluster covers, so make sure you check out which one is up next.
Women in the area can join Inforum, a professional women's alliance, with five regional groups meeting to make a better future for women in their respective areas. Inforum events are open to nonmembers, but require registration.




For the more adventurous networker, or perhaps a hobbyist in fermentation or cycling, Meetup is a great way to meet likeminded individuals who share your passion for a particular activity. While it's not necessarily professional in stature, it's a sure way to meet area dwellers who could easily become close friends and allies.
For a nearly complete list of activities, meet-ups, and organizations in Grand Rapids, Eventbrite features a calendar and map of events tagged "networking" in the West Michigan area. You might have to surf through a few Avon and Tupperware sales parties, but there are plenty of business and professional opportunities to join, too. Informational meetings abound, language-specific or bilingual events are aplenty, and those looking for work can find hiring calls as well.
If you're still searching for opportunities, West Michigan Woman has its own events on the Web, too! The First Annual Ladies' Pint Out took place July 29, with craft beers, local food selections, and great company. If you missed it, don't despair: Other events offer their own flavors and flair—sometimes for a cause!
We're lucky to live in a vibrant, active community that's passionate about connecting people of strength and character to grow professionally. Take advantage of these and other opportunities to reap the benefits of a large network and friendship base in West Michigan!
Written by our friends at 834 Design & Marketing, an integrated communications company located on Grand Rapids' west side.