When I first started with Serendipity, one of the things I was most excited about was getting back to my long lost love of the written word. I used to love writing; I loved writing poems, stories, nightly in my journal. There was something about it: Sometimes, I could only express what I was really feeling through writing it down.
When I was in sixth grade, we were doing a focus on poetry in my writing class. I had oddly picked the theme "death" for what to write and research on. In the middle of this project, my grandma died. It was my first real brush with death, and I was floored. I didn't understand, even with the recent research of the topic. It was so different; it was a hammering explosion of emotions when it actually happened to me. To get through this time, I wrote. I wrote in my journal, I wrote down memories of my grandma, and I even wrote a poem that I proudly got to display for all to see and read at her visitation and funeral. On her birthday that year, I wrote her a birthday card and sealed it inside a book she had given me. For years after, on her birthday I would open up the card that I had written her the year before, and then write her a new one, repeating the process. Writing helped me tremendously during this difficult period in my life. I remember the way it made me feel to write down my feelings and try to make sense of them all. I miss that feeling. I miss writing. But here I am, being given this wonderful opportunity to write again—and this makes me very happy.
I look forward to continuing to write blogs for our website, and to read the stories that others have written. I hope that this will spark my desire to keep a journal and start writing for fun again!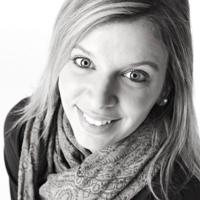 Written by: Lindsey Balcazar is West Michigan Woman's account executive. She is solid when it comes to family: She loves spending time with her new husband, Hernan, and her parents and sisters who live close by in her hometown—Grand Rapids.