In January 2012, I wrote a blog about selecting ONE word as a theme for the upcoming year. Sixty percent of people don't follow through on their New Year's resolutions anyway, so why not try something new, right?
Serendipity Media's word for 2012 was DELIVER! We had already experienced quite a bit of enhancements with our products/services, and it was time to make good on what we promised. And that's exactly what we did.
In 2012, we grew our educational offerings, added new products (including West Michigan Woman), improved efficiencies, and, most importantly, grew sales. The process of looking ahead and creating a theme for how we wanted our year to look worked. It's so much easier creating what you want, versus looking back with no control to see what transpired.
As we identified our new theme for 2013, we decided to build upon our successes from the previous year. Our new theme is FORWARD. In order for us to build on what we've created, we must honor our past, but focus on the direction of our future. We must add to what we've created, and be ahead of where we have been in our past. For our team, the word forward describes a positive direction of growth, development, achievement, and success.
As you look to 2013, I challenge you to create a word that helps shape your actions, intentions, and commitments for the New Year.
Cheers to a happy and successful 2013!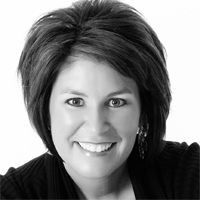 Written by: Kasie Smith is West Michigan Woman magazine's publisher. She is a Michigan native. She was born in Traverse City, and now lives in Grand Rapids. She enjoys golfing, spending time in the sun, and watching romantic comedies with her very own leading men, her husband Jason and her twin boys.