On a family vacation this past year, I was sitting back watching my kids play a game of shuffleboard. Yes, you read that correctly. I may only have a few gray hairs; however, we do enjoy our shuffleboard games while on vacation. As I was relaxing, I noticed this mom in the court next to me taking pictures of her little child's every move with her camera, like she was a tourist. My brain trailed back to the many, many years doing just the same thing. For a quick moment, I felt a little guilt that I wasn't doing the same thing right then. Had my kids grown up to the point where photos weren't warranted for their every step, or had something else changed in my life?
As I watched her and dug a little deeper, I realized that a lot had changed. I began to see how much of my life I had only seen through a small portion of my camera's viewfinder, in the attempt to get that perfect picture. And, for what? That's the sad part. I wanted the perfect picture for all the wrong reasons. I had told myself it was to remember my blessings in the future. (And yes, there was some truth to that.) However, there were ulterior motives that had seeped into my selfishness and pride. I wanted the world to know how perfect my life looked.
As I gazed at this woman further, I realized how much of my kids' lives I had missed because of my camera. In so many moments, I wasn't able to just be—to just sit back and enjoy life.
During this holiday season and beyond, ask yourself what you need to put down. For me, it was a camera; however, for you, it may be something different. It may be those great books that keep your nose buried in them. It may be your techy gadgets that fill your time. It may be surfing the Web that steals your precious minutes with those you love. It may even be your job that calls your name at every corner.
Be weak enough to realize it. Be strong enough to put it down.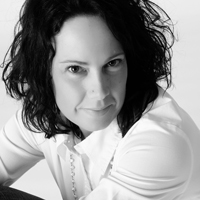 Written by: Stephanie Teslaa works in HR for West Michigan Woman magazine's publishing company, Serendipity Media. She excels at using both the right and left sides of her brain, and that's exactly what makes her so special. Stephanie calls Hudsonville home and is a lover of numbers and also a talented photographer. Photo: stock.xchng