I don't want to think about Christmas until after Thanksgiving.
Stop with the Christmas music!
Stop with the holiday shopping ads!
Stop with the home decorating in October!
Listen, I'm not a Scrooge by any means. I LOVE Christmas—some years more than others—but it really is one of my favorite times of year. Except when in starts in mid-October, before I've had time to celebrate Halloween or Thanksgiving. I want to celebrate each holiday. During Halloween, I like to feel like a kid again, dressing up and handing out candy. During Thanksgiving, I want to be surrounded by friends and family, reflecting on and giving thanks for all the blessings in my life. I want a quiet, simple time like I had in Thanksgivings past.
Growing up, Thanksgiving was always a special time, spent with my mom's family. We would go to my Uncle Joe and Aunt Jean's house in the country. While the turkey was cooking, the adults would sit around the big wood table in the kitchen, enjoying a few cocktails, telling stories, catching up, and enjoying the treats on my aunt's famous relish tray. (The black olives were my favorite.) The kids would be outside with the horses, playing games in the barn, or tormenting the adults when all they wanted was five minutes of peace from the children. When the meal was served, we would gather together and give thanks to God for all he had blessed us with. Even during the most difficult times in our lives, we were still able to show our thanks. After our meal, the men would escape to watch football, and the women stayed in the kitchen to clean up. The kids waited patiently for Grandma's homemade banana cream pie and kolachky cookies. (Like we waited for those cookies ...) If we talked about Christmas, it usually revolved around who was hosting and what should we serve … another turkey or ham? Sounds delightful, doesn't it?
Today, we are bombarded with the commercialization of Christmas: music, decorations, gifts, shopping, ads, ads, and more ADS!
And now, we don't have to wait for "Black Friday" anymore. Stores are opening their doors as early as 8 p.m. on Thanksgiving. Seriously?
Hey, I don't care if you want to get up and shop at 2 a.m. I did it once (and only once), but why do we (as a nation) have to be so greedy to sacrifice the Thanksgiving holiday to just save a few bucks? Before you know it, we will be celebrating Christmas on the Fourth of July.
I'm trying to help my daughter enjoy some of the traditions from my childhood. While we don't live near our family, we are blessed with wonderful friends who have hosted us for many years. The people are different, the food is different, and this time around, the men do more of the cooking. But it's still very much like it was growing up. Family. Love. Laughter. And fighting over a good card game.
My hope is that my daughter will be reminded of the true meaning of the holiday season. I hope you are, too.
Happy Thanksgiving.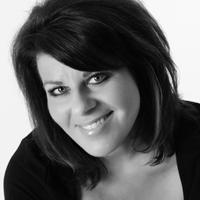 Written by: Jennifer Reeves is the director of sales and service for West Michigan Woman's publishing company, Serendipity Media. She is a customer-service guru, and she is known around the office for her electrifying personality and contagious laugh. When she isn't spreading cheer at Serendipity, she is relaxing at her home in Holland with her beloved daughter, Mackenzie. Photo: stock.xchng