When my best friend became engaged last fall, I couldn't have been happier for her. Memories flashed through my head from the previous ten years and how much we really grew up together through college and as young adults. And now that one of us was taking the next step in her life, it feels as though we both were preparing for what was to come.
When Cecilia asked me to be a part of her and Jim's big day, I accepted without hesitation. But the question that kept running through my mind was, am I running out of time? Will I be the last one of my acquaintances to settle down? As the wedding planning began, I slowly started realizing the answer. Being twenty-seven and single is a blessing and not a downfall. I can proudly say that I have accomplished a lot over the last decade, and I did it by myself. Independence has taught me to not only to provide for myself, but also grow into the person I want to be.
As I sit next to Cecilia and throw around fun ideas, I can't help but smile. She truly glows with happiness, and I can't wait to stand by her and Jim at the alter and watch their lives begin together. And I know when my time comes, she'll be standing next to me with the same love and support.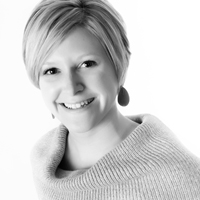 Written by: Julie Kalinowski works as the sales and service coordinator for West Michigan Woman magazine's publishing company, Serendipity Media. She has called Grand Rapids home since birth. She is a professed lover of her Grandma's homemade Polish food, and she has a degree in advertising and public relations from Grand Valley State University.