Last Wednesday, July 25, I was lucky enough to attend Fashion Force Challenge at Monte's, an event co-sponsored by ArtPrize and Spotlight 616, as a judge. The event was centered around the release of ArtPrize's latest and greatest merchandise line for their international art competition beginning September 19 and lasting through October 7.
Twelve local, promising designers were asked to come up with a unique design utilizing last year's ArtPrize merchandise to debut at the event. As a judge, I didn't know what to expect. I was incredibly excited as I watched everyone hype up the show days leading up to the competition. Upon arrival at Monte's I was overwhelmed by the glitz and glamour; it was so fun! Each designer had an entourage of stylists and makeup artists on site to make their models and designs look fantastic. The audience members had a front row seat to the action and could watch as the designer's team worked frantically to achieve perfection.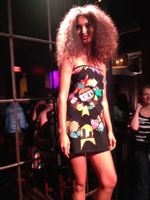 Around 7:30 p.m. the models hit the runway to show off their designer's concepts. As a judge I used a rubric that ranged from originality and use of ArtPrize merchandise to overall presentation to evaluate the clothing creations. They were all incredibly interesting and different. I was so impressed with the amount of creative talent that resides in West Michigan.
The best part of the show was the second round. Each designer was given a new piece of ArtPrize apparel and fifteen minutes to create an original look. Scissors, buttons, and sewing thread flew through the air as the designers went to work. It was fascinating to see what happens when creativity comes under pressure. The designers then had their models walk the runway one last time to show off their authentic, on-the-spot conceptions.
In the end, Liesel Geneva of Apparel Artistry took home a $500 cash prize and will serve as the ArtPrize Fashion Ambassador receiving automatic entry into this years Style Battle taking place September 27 at the Goei Center in downtown Grand Rapids. The dress she designed was fabulous. It was colorful, well made, and designed with ArtPrize in mind. I can't wait to see what her team comes up with at Style Battle 2012. See you there!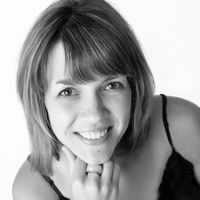 Written by: Chelsea Slocum is a resident of Grand Rapids. She works as an educator and freelance writer. She enjoys learning about new and different things happening in the city and spending time with her husband, two crazy kids, family, and friends.