Around Easter time, it's not uncommon to see bunnies everywhere—from chocolates, to coloring books, stuffed toys and more. But Caledonia-based Lavender Life Company is giving a whole new meaning to these furry friends with their therapeutic Xander Bunny. The company, co-owned by husband and wife team Vic and Vickie Bennett, started with a purpose: To ensure each child in foster care—all 420,000 of them—knows they are loved.
Named after Xander—the Bennett's grandson who was adopted out of foster care and is now a full-time member of their family—the Xander Bunny is a soft, warm-able animal filled with fresh Lavender flowers, grown on the Bennett family farm. The Xander Bunny also contains soothing Michigan cherry pits for an elevated level of comfort for those who hold it close. The company has also created a Xander Dog, which like the Xander Bunny, has a glow in the dark heart on its foot so those who hold it know they're not alone—even in the darkest of nights.
The company is on a mission to provide a therapeutic stuffed Xander Bunny or Dog to every child in the U.S. foster care system, partnering with nonprofit organizations and foster care agencies across the country and have donated over 35,000 stuffed Xander Friends to children in need throughout 17 states. Since January 1, 2020, Lavender Life Company has aligned with 59 unique community partnerships that support their values and seek to "adopt" the Xander Project.



In Michigan so far, the company has partnered with Wedgwood Christian Services in Grand Rapids, Foster Closet in Berrien County, and Department of Human Services in Wayne County.
According to childrensrights.org, many of America's child welfare systems are completely broken, leading children to suffer serious harm as a result, including being separated from their siblings and being bounced from one foster care placement to another, never knowing exactly when or where their lives will be uprooted to next.
"These bunnies are so much more than a philanthropic gesture—they are bringing hope, peace and collaboration to an entire system that is broken and in despair," said Leigh Ann Luttrell of Christ's Church in Jacksonville, Florida.
Too many of the children in America's child welfare system will be further abused within the systems that are supposed to protect them. Instead of being safely reunified with their families—or moved quickly into adoptive homes—many will languish for years in foster homes or institutions. It's expected that over 18,000 will age out of the system this year alone without a home.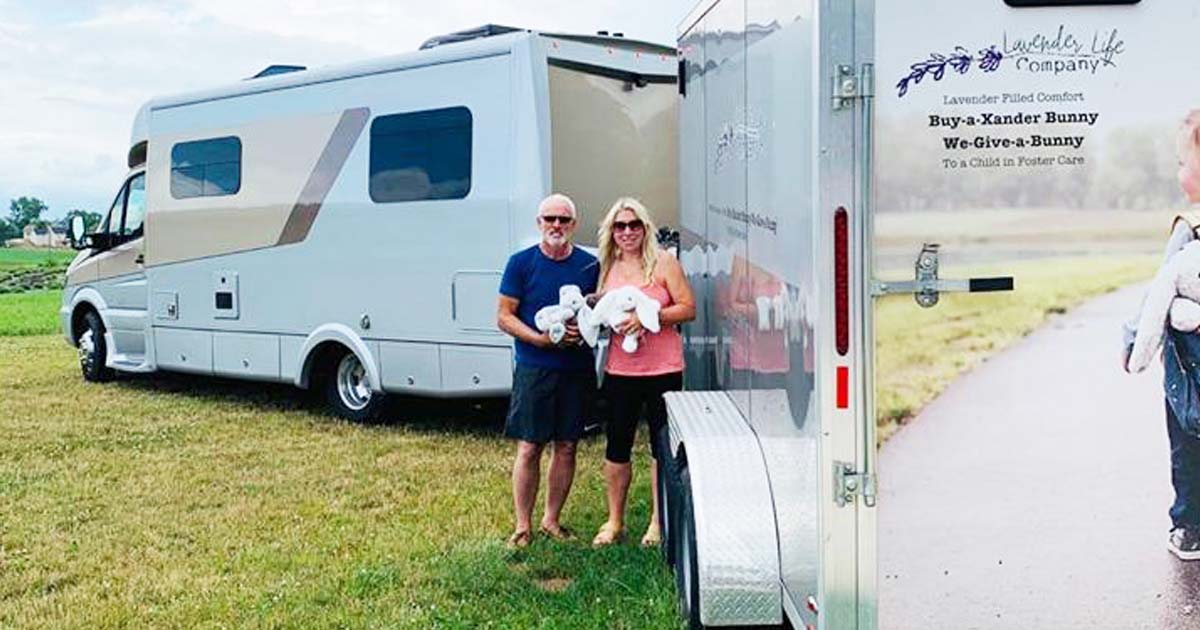 "We recently delivered 1,800 Xander Friends to a group that oversees 41 remote counties in northeast Georgia," said Vic Bennett. "The director wept when we explained that the glow in the dark heart on the bottom of the Xander's foot is to remind them that they are loved and not alone. We have again been reminded of the level of upheaval these children go through."
Alongside the Xander Bunny and Xander Dog, Lavender Life Company offers a diverse range of products including culinary, apothecary, and skincare products. On top of all that, the company's lavender neck wrap and eye pillow were recently featured and given high praise nationally on the Drew Barrymore Show. (Hint: You may have just found the perfect Mother's Day gift.)
Visit Lavender Life Company to learn more about their product offerings and the Friends of the Bunny project.
Written by Sarah Suydam, Managing Editor for West Michigan Woman.
Photos courtesy of Lavender Life Co.