Due to the COVID-19 pandemic, many couples have had to make difficult decisions about their special day—whether postponing their wedding by an entire year or shifting their plans to a smaller outdoor event (hopefully) in the months ahead.
Alpine Events, which has been serving Grand Rapids for more than 50 years, is using this unprecedented and strange time as an opportunity to think outside the box and help couples achieve the wedding they've always dreamed of—even though it might look a little different.
Leading up to the stay-at-home order in March 2020, the Alpine Events team was hard at work on the annual Irish on Ionia event held in downtown Grand Rapids—a large-scale event that was ultimately not held as planned. Since then, events of all kinds have been a constant puzzle to solve, especially for those getting married.
"It's been a lot of postponing, changing events, and working through what those details may look like and finding new dates for them," said Emily Riley, Director of Events and Marketing, Alpine Events, who's helped reschedule over 10 small and large-scale weddings since the pandemic started, utilizing vendor relationships to offer extra assistance. "Some people may say, 'Our caterer wasn't available for that new date' or maybe their DJ wasn't, so I'm happy to reach out to some people I know."
Being genuine and empathetic—simply asking how their clients are doing—is important, Riley emphasizes.
"When it comes to people who are newly inquiring or just getting engaged, we're reaching out to let them know—obviously, within the guidelines that the government and CDC are recommending—that we can make any small event happen, as long as they're allowed to," said Riley. "Say the order gets lifted and we could have gatherings of up to 50 people, we have the ability to piece together what's needed for them."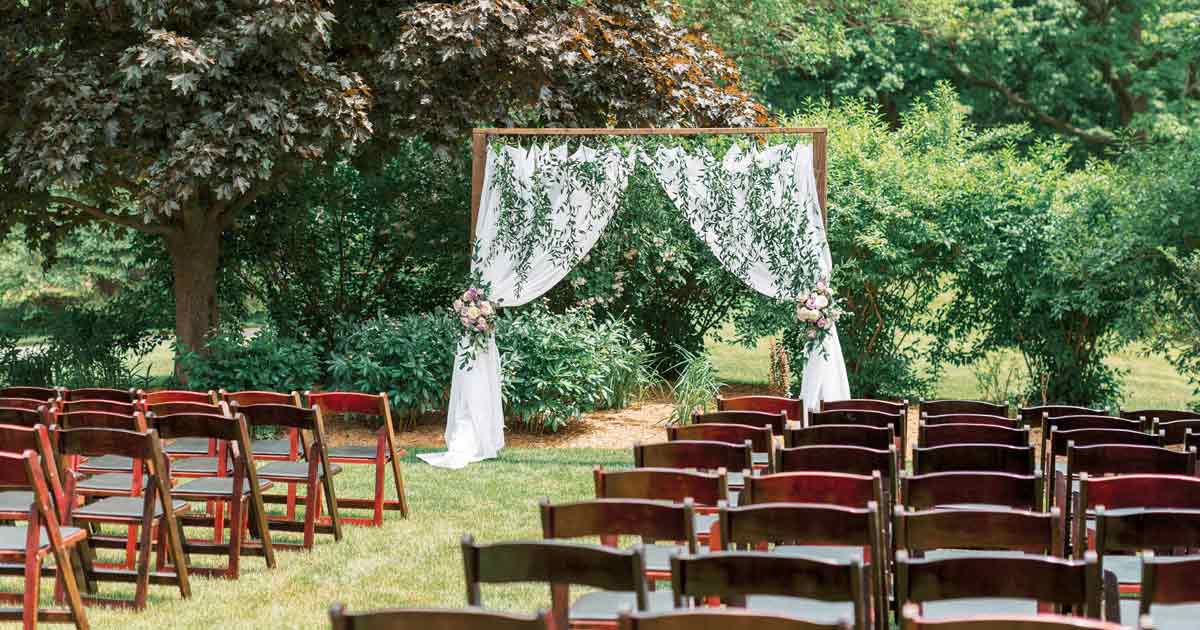 Beyond weddings, Alpine Events has been working to help the community in other ways.
"Especially since the stay-at-home order has been in place, our inventory is going to be sitting, so we've got a couple of different opportunities," said Carey Bisonet, President of Alpine Events, noting the company has been working with private companies to set up drive-up testing clinics and other statewide initiatives. "We're trying to capture some of that work in a way to keep some of our staff around, keep people busy, and have a little bit of revenue coming in."
Bisonet notes they've donated secure industrial tents to Cherry Health Clinic, allowing their staff to not have to drag them back and forth every day.
"We're looking at different opportunities where we can help some of our local community hospitals or health centers and say, 'These items aren't in use, so as long as they're not going to be, how can we help to offer these at no cost and try to be, in some small way, part of the help effort?'"
Though Riley and the rest of the Alpine Events team wish they could do their clients' weddings tomorrow, they're sharing how the current situation has affected their industry.
"We're all just working through this together—as a community, as a city, as a state and as a country right now," said Riley.
Bisonet adds that though it can feel like you're on an island right now, Alpine Events always has someone available to answer your calls and questions.
"Even if they aren't a client of ours and just want some input, we have some time on our hands right now—so call and ask. A lot of people may be afraid to reach out, or they don't know who to talk to, and we want to be a helpful resource right now."
Though events might look a little different as we begin to transition out of the stay-at-home order, the Alpine Events team is happy and ready to figure out how they can help those needing assistance.
Written by Sarah Suydam, Staff Writer for West Michigan Woman.
Photos courtesy of Alpine Events.