When you think of therapy animals, your mind probably defaults to an adorably fluffy golden retriever, or perhaps an auburn-colored horse with an exceptionally silky mane.
But what about a therapy cat?
Catch a glimpse how Lynn Hopkins and her therapy cat, Jack B. Nimble, are spreading joy to West Michiganders from all walks and stages of life.
Lynn Hopkins has always been an animal lover. Her family consistently had dogs growing up, but when she finished law school and moved to Grand Rapids in 1992, Hopkins decided to get a cat—and hasn't looked back.
"I still like dogs, but I prefer living with cats," Hopkins said. "A cat is more like a roommate than a pet!"
Hopkins, a retired attorney who worked for the Kent County Prosecutor's Office for 25 years, always felt compelled to serve her community, having volunteered with a suicide hotline for several years during after college. It's one of the reasons she was drawn to Crash's Landing and Big Sid's Sanctuary.
"I don't remember exactly how I learned about Crash's Landing, but I loved the fact that it was a no-kill shelter, as well as the fact that it was a free-roaming shelter—rather than keeping the cats caged."
She was actively involved with the shelter for many years, frequently talking extra shifts and additional responsibilities beyond basic shifts. Hopkins was the Director of Cat Care for about five years, a volunteer position at the time that essentially involved being the liaison between the shelter and veterinarian Dr. Jennifer Denyes.
When little 1-year-old Jack B. Nimble came to Crash's Landing in 2009, he was just as any other cat would be: happy and playful, always running—even though he was born with deformed front legs, accompanied by the distinctly gimpy gait that's the source of his clever name.
Still, it took a little time before he would make his way into Hopkins' home.
"Jack was adopted by two different volunteers and then returned to the shelter by both of them, for reasons that I really did not understand," said Hopkins, who was upset that delightful Jack kept getting bounced around.
"I felt that it wasn't fair to him and that he deserved a forever home, so I took him home myself."
Jack has no idea that he's different than other cats and can run surprisingly fast, in spite of his limp. He's especially fond of playing with crinkly foil balls, tortilla chips and pizza crust—but might love laying on warm pizza boxes even more.
Hopkins discovered Jack's amazing social skills after taking him to events like the Crash's Landing volunteer picnics, where Jack would calmly lie down and let people pet him.
"I could hand him to anyone and he was perfectly content to let them hold him," said Hopkins, who later began taking Jack with her when she did presentations about Crash's Landing for the pre-vet club at Grand Valley State University.
Having previously learned about therapy cats through a Facebook posting, Hopkins knew Jack would be a perfect fit. She certified Jack through Love on a Leash, a San Diego-based organization that provides an accessible certification process allowing qualified therapy teams to provide effective pet-provided therapy services in their community.
The certification process differs for cats, since unlike dogs, you can't necessarily send them through obedience school.
"Jack had to be evaluated by a veterinarian—both for health and for behavior—before we did 10 hours of visits in various environments, with someone observing us and making notes about Jack's behavior and interactions with people," said Hopkins, adding that therapy cats are generally found rather than trained.
"We did most of our certification visits at two assisted living facilities, but we also did one visit at a student event at Calvin College, which was a very different environment. Jack was a natural from the first visit, as I knew he would be."
Hopkins and Jack have gone on to visit college students during exam weeks and also hospice, dementia and Alzheimer's patients, three or four times a week.
"It's something special that I have to offer that not many people can provide. It's such a simple thing—I just let people hold my cat—but it means so much to so many people."
Hopkins recalled a particularly powerful and humbling visit she and Jack had with a hospice patient. A staff member told her the patient decided to forgo any morphine that day, because they knew Jack was coming to visit and he made that patient feel better than morphine did.
"Patients who barely respond to the people around them will respond to Jack, drawing comfort from his snuggles and purrs."
Jack has given Hopkins a new purpose and mission since she retired.
Hopkins recently submitted Jack's story to the Petco Foundation 2018 Holiday Wishes Campaign and was one of 51 recipients nationwide to win a special grant to help the charity of their choice. Along with Hopkins and Jack getting a Petco shopping spree, Crash's Landing and Bid's Sanctuary were awarded $25,000.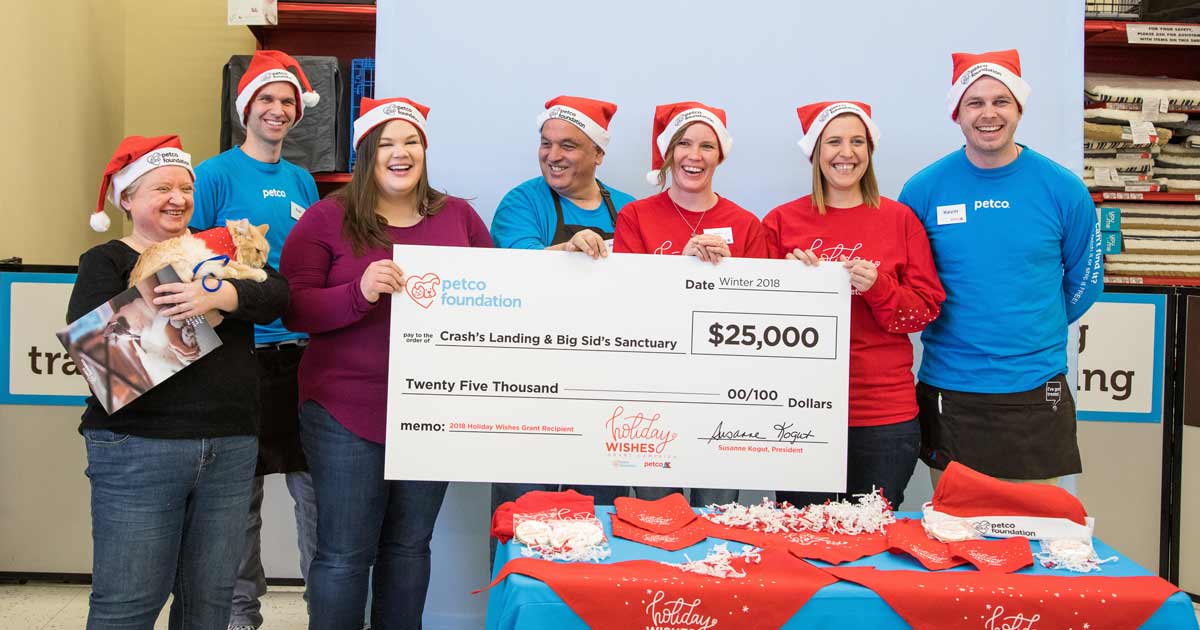 During his shopping spree, Jack picked out a new cat tree, a bed, a cloth "igloo," and other toys, in addition to some Temptations Treats, Fancy Feast food, and catnip.
"I cherish the opportunities I have now to share Jack with people who take so much comfort from his presence."
Today, you can find Hopkins at the shelter about one hour a week, when she's not spreading joy with Jack all around town. She hopes now that people know about Jack, they might realize their own feline friend may be a good therapy cat.
Learn more about Crash's Landing and Bid's Sanctuary, and how you can get involved or donate today.
Written by Sarah Suydam, Staff Writer for West Michigan Woman.