I grew up on Lake Michigan in the little Village of Pentwater and I spent all my summer days swimming, playing volleyball, jumping off the pier (trying to not get caught by the authorities), and just sitting with my toes in the soft, clean sand of Charles Mears State Park.
I moved to the Grand Rapids area to go to college and never left. I met my husband, got married, bought a house in Rockford, and still managed to make it to Pentwater nearly every weekend to spend my days at the beach. When my husband and I made a career move in 2010, I told him it would be great if he found a job closer to Lake Michigan. He took this challenge on– and landed us on the wrong side of the Lake in Milwaukee, Wisconsin. Not exactly what I had in mind when I said to "keep it close to the Lake, please," although, when I found out that the house we would be living in was only a mile from Lake Michigan, I was smitten!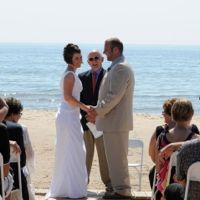 I was so excited to live that close! I thought I would go to the beach all the time, summer would be great, and I wouldn't even miss my Pentwater beach. Well, I was wrong. I was extremely disappointed when I found out that the only "nice" beaches were miles north of my home and even then they were not clean and soft, but rather rocky and resembled dirt, not sand. Many of the friends I made in Milwaukee said they'd always heard that they got the "short end of the stick" when it came to the beaches of Lake Michigan. I showed them pictures of my wedding–on the beach in Pentwater–and they couldn't believe how different the two sides of the Lake are.
Well, goes to say, the move away from home, friends, family, and the beach drew us back to West Michigan a short eighteen months later. We're really happy that we made the move to Milwaukee, got out of our comfort zone for a little while, and made some really great friends. But we are more than thrilled to be home. I'm excited for summer. It's going to be a great one!
Written by: Angela Brown is the Marketing Manager for West Michigan Woman magazine. She graduated from Grand Valley State University with a degree in advertising and public relations. Angela loves going to the beach, cooking for friends, party planning, wine, DIY projects, sewing, and gardening.