Sometimes, when you find it difficult to schedule date night, you multitask and bring some friends with you!
That's what we did this month for #forcedcouplesfun. Every year, we carve a weekend out in the summer for our friends Jason and Janet to come for a visit. They are foodies like us, they get to experience Detroit's finest quite regularly, and they tagged along as we tried a new restaurant in town: Mazzo Cucina D'Italia.
Mazzo opened this past May, replacing the long-running restaurant Tre Cugini. Owned by Faro Uccello, Mazzo is not your typical Italian restaurant—at least by our standards. When you walk in, you immediately notice the contemporary ambiance with the open kitchen and raw bar. The open floor plan was welcoming, and we received a warm greeting from long-time restauranteur Chrstine Gill, Mazzo's general manager.
We arrived ready to eat! Jason took one look at the appetizer menu and told our server, "We will take one of everything."
The guys had golfed 27 holes and didn't eat, so needless to say they were ravenous! When he said that, my jaw dropped, but I'm glad we got to try everything. It was worth it!
If you've read any of our past blogs, you'll know that appetizers are our thing! I could go into depth about each appetizer, but I would bore you with words such as decadent, succulent, unique, fresh, spectacular ... They were so good, I barely remembered to take photos. I must make mention of the beef carpaccio. Quite honestly, it may have been the best we have ever had. It was prepared to perfection with truffle, capers and pecorino. The crudo was prepared with a flawless chimichurri sauce, and the presentation added to the experience.
You'd probably think we were stuffed after all the appetizers—yet they were light and left you wanting to try one of the main dinners. Rather than each of us ordering an entrée, we decided to order a couple of options and continue with our tasting.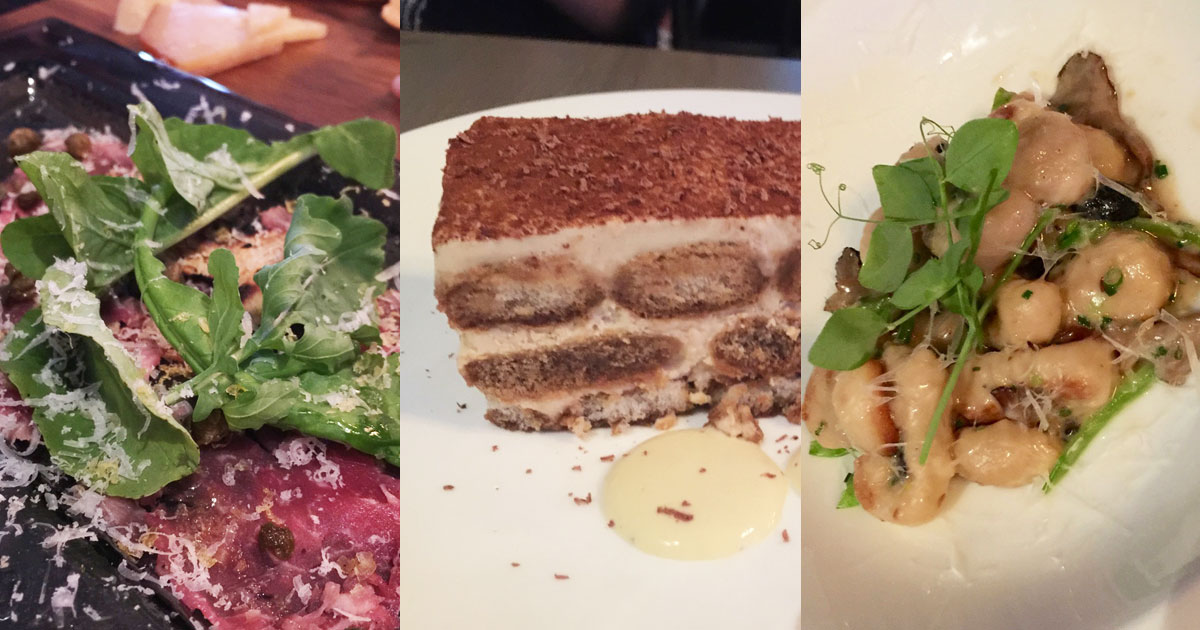 The entrées did not disappoint.
We ordered the squid ink pasta, the fungi pizza and the gnocchi. As you can imagine, the pizza was prepared beautifully. We would expect nothing less from Faro! However, this isn't a Uccello's-style pizza. It's prepared in a pizza oven, with intense flavor that truly tantalizes your palette. The squid ink pasta was good, especially if you like mussels. But the winner of the evening was the gnocchi. I have never had gnocchi with the rich, yet light flavor this had.
A night like this wouldn't be complete without a serving of tiramisu! While I'm not a fan in general, Jason and Janet claimed it was the best they have ever had!
Mazzo is definitely worth a try, especially for that special occasion and celebratory evening—or if you have friends in town for a visit!
Kasie Smith is the president and publisher of West Michigan Woman. She and her husband, Jason, are fans of food, travel and golf—and their twin sons, Jackson and Spencer. Watch WestMichiganWoman.com for more stops on their Foodie Tour! And click here to learn more about Forced Couple Fun.