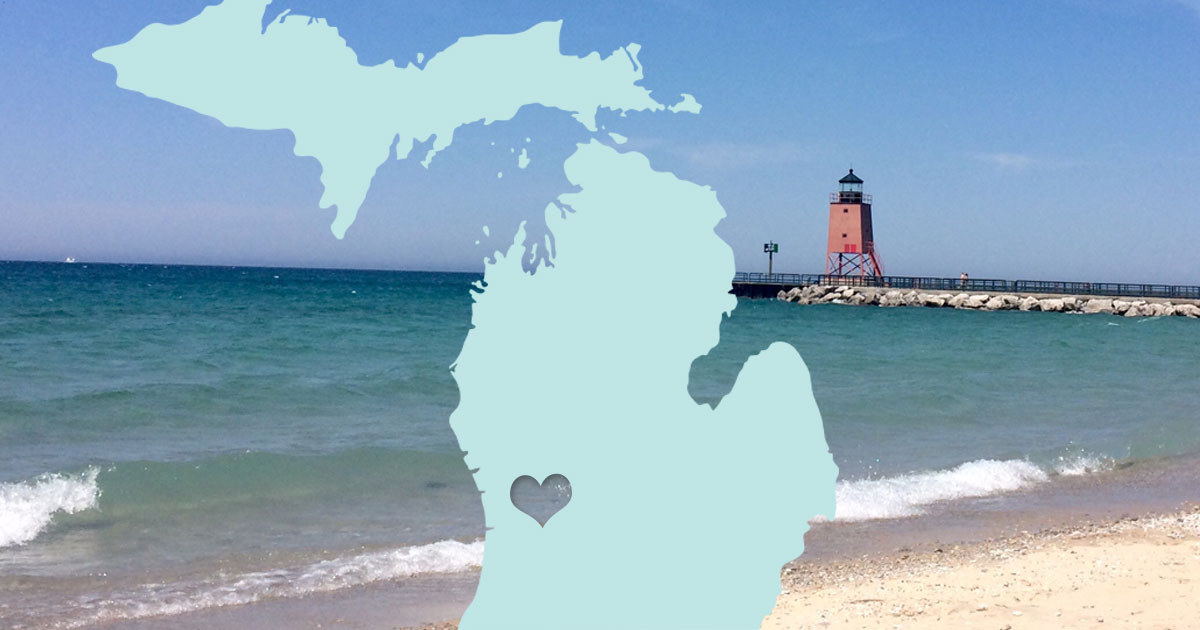 With one former West Michigan woman's rather unexpected move to Florida comes a new wisdom—the wisdom of realizing there are (at least) 10 things only West Michiganders understand.

1. The Meaning of "The Lake"
"What are you doing this weekend?"
"We're going to The Lake."
West Michiganders are enamored of their particular "Great" cold body of water and regularly delight in its beaches and charming waterfront towns.
A bonus: Lake Michigan isn't home to sharks or alligators—just sandbars and pure Michigan fun.
2. Musical Ski Hills and Gardens
Have you ever anxiously logged onto your computer at 9 a.m., in a way reminiscent of waiting overnight for concert tickets? If your answer is "yes," you're a West Michigander. Concert venue by sun, ski hill by snow. Kiddos' play space by day, adult escape by night. We cherish our versatile outdoor spaces and enjoy them year round.

3. Eat Fresh and Local
While you may not live on a farm, you can thankfully enjoy the bounty of your generous neighbors. The West Michigan food scene is progressive: Step foot outside our little hamlet, and this fact becomes striking apparent. West Michigan's farmers' markets are always stocked with locally cultivated foods, and your search for farm-to-table restaurants isn't actually a "search" at all—because they're everywhere.
4. Oh, that Crafty Beer
They don't call this place Beer City USA for nothing. Thirsty Grand Rapidians want more than a perfectly hoppy mug of suds. We expect our beer to be brewed to perfection—on the premises. Some may refer to us as "beer snobs" ... and we're just fine with that.

Photo courtesy of the Grand Rapids Children's Museum.
5. Art on Every Corner
ArtPrize isn't your run-of-the mill art fair. Artists don't bring their treasures to town for the weekend and pack up them up the following Monday. Thankfully, much of the art becomes part of the Grand Rapids' landscape. Fall without Art Prize is like a fall without red, orange and yellow leaves. Speaking of which ...
6. West Michiganders Never Suffer the Effects of "SAD"
By SAD, I'm of obviously referring to Season-LESS Affective Disorder. Haven't heard of it? Spend a September in Florida: You'll quickly know what I'm talking about. Palm trees just don't change color.

7. Costume Changes
In West Michigan, you can wear shorts, sweaters, tank tops and fuzzy snow boots—often all in the same week! On some winter days, we don't even change out of our pajamas. Every true West Michigander knows a parka covers all! Throw on some tall boots, and you're all set.
8. Libraries House More than Just Books
Stuck inside with toddlers on a rainy day? No worries! Your local library doubles as an indoor play space. From rooms filed with thousands of Legos to dress up corners, themed art stations, technology spaces and faux ice cream shops, local libraries keep the kids entertained. Of course, there are great books there, too.

9. You Know You're from the Midwest
West Michiganders know that living "Up North" means living in the U.P.—or Traverse City, Leland and other towns of that ilk. "Up North" is not merely a large, amorphous space just above the Mason–Dixon line.
10. Michigan Pride
West Michiganders are prideful people. Our downtown areas are filled with local shops and restaurants—and no one is a stranger. In our neck of the woods, we wear our Mitten Love on our sleeves and tell everyone all about the special place we call home.
Written by Lisa Stickler, forever a West Michigander at heart. She could probably fill 10 more lists, similar to this.

Save