"Hi, my name is Courtney and I am a Pinterest-aholic." Have you reached that stage as well? If so, Welcome! If not, don't worry, you will!
Pinterest.com. That's where it all started. I joined Pinterest more than a year ago. At first glance I had NO idea what it was. I would just look at things and not know if I was supposed to post pics too, or excuse me…"pin" pics. Or if I was supposed to just browse and be entertained for no reason while saying "ooh" and "ahh" to the air around me. So I just forgot about it.
Then more and more friends started joining and talking about it. A few friends posted DIY crafts they made after seeing them on Pinterest. A few more were posting great motivational quotes they found. And others were posting fun house decorations that they loved or dream kitchens that they hoped to have some day. That's when I finally got it!
And THEN…I became an addict. I understood why people were on there for hours. And how all of a sudden you have about twenty boards, each with 15+ pins. And that's low. I've "re-pinned" quotes to motivate me back into running–quotes that I'd like to follow in life. I've looked up fun layouts to get fresh ideas for work, and I've looked up invitations to share with my clients when narrowing down what they're looking for. More recently I've become OBSESSED with anything having to do with house décor. I'm talking DIY, store products, storage ideas, whatever it is, I'm looking it up on Pinterest, and I'm adding it to my "Inspire: Home" board, or my "Inspire: Bath" board. I even have a "LOVE" board for the things that I 'feel' I can't live without. Or a "YUM" board for the awesome recipes people post.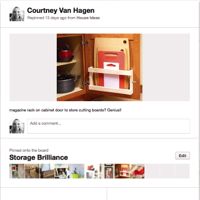 My husband the other day wanted to know what the big deal was. All I could say was "LOOK at my boards!!! Isn't this cool??" as I showed him a pic of a wooden magazine rack hooked to a cabinet door used to store cookie sheets instead of just throwing them in a cupboard and then having to dig out all of the pans you put on top of them. Of course, I still received the "What's the big deal?" look from him, and I could only shake my head and be confident in knowing that all of the other fellow Pinterest-aholics would understand me.
Now…it's about an hour til the work day is done. Which means one more hour of productivity and then its home to hang out, relax, and…after writing this article, I'm thinking a few pins will be made!
Happy Pinning!
Written by: Courtney Van Hagen is an art director, and that means she is responsible for the look and feel of everything that Serendipity Publishing creates, from the tiniest direct mail piece to the monthly monster magazine layouts. She designed the invitations for our West Michigan Woman Mixer, and she'll be the one to create the layout of West Michigan Woman Magazine, launcing this August!