It's easy to pick out a cute beach towel. It's fairly simple to grab the right sunblock. It's a breeze to select a large enough beach bag to throw those items inside. The swimsuit?—that's another issue. Arm yourself with what's trending and you can take some of the work out of what looks good and what's popular this season.
In general, look for "crochet insets on tops of bathing suits, a lot of bohemian trends and geometric prints," says Courtney Hunt, owner at Humanity Boutique, located at the MoDiv shops in Grand Rapids. Hunt forecasts many stylish suits featuring color blocking details and embellishments such as mesh insets. One piece swimsuits will be sporting unique cut outs and high-waisted bottoms make a comeback for those needing a little more coverage.

Specifically, a line that creates plenty of buzz and has great name recognition is the Tory Burch line of swimsuits at A.K. Rikk's in Grand Rapids. "To sum it up, the line is sporty classic with a little bit of glam. It's a great introduction to swimwear that works with a lot of shapes and ages whether on vacation or at a beach in Michigan," says Emily Hughes, Director of Women's. Styles coming into the store will come in great solid colors of red, black and navy with classic gold hardware that adds a little bit of drama including fun leopard print as well.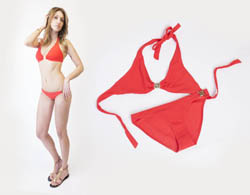 Personally, Hughes loves the red. "If I had to pick one, the red two piece with gold accents is very sporty but still feminine and bright with a tan."

Remember, a good attitude is always in style so don't be so hard on yourself when it comes time to search for swimsuits. Let the experts help with trend points, advice and fitting that's customized and comfortable.

Written by: Missy Black