New to the RedWater Restaurant Group and to Watermark at Cascade is Cork, among the dining and event spaces to now comprise Watermark's entire main floor. Cork's thoughtful design and open feel enhance a lively lounge and contemporary dining scene. Cork offers more than one hundred seats inside, and open and covered spaces with fire pits—and views of Watermark's golf course—outside. A three-sided fireplace is a focal point of the indoor dining room.
Cork's menu was developed under the expert guidance of Executive Chef Nathan Orange and culinary leader Glenn Forgie (Reds on the River executive chef, RedWater Restaurants corporate chef), and features appetizers, burgers, gourmet sandwiches, salads, seafood, special entrées, steaks, and specialty cocktails. Nightly specials will also be offered, along with an extensive wine list.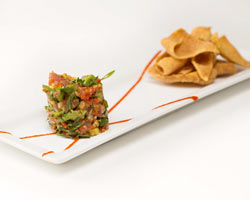 Joining Cork later this spring is Vintage, a forty-eight-seat enclosed, intimate, upscale dining space. Vintage offerings will include prime steaks and seafood and an expansive wine list, developed under Chef Forgie's direction.

www.redwaterrestaurantgroup.com | www.corkwineandgrille.com