Strong in body, mind, and spirit, Dany Lyn Redwine-Bucks beat the odds and her breast cancer. Now, she's standing up against another debilitating force. As an African-American, it is not in Dany's nature to share her own struggles with others—including her family—but she knows in order to save lives, she must tell her story.
Dany said African-Americans, especially the older generations, are reluctant to share health concerns with others: What happens in the home stays in the home, so as not to burden others with personal problems.
"It's a cultural thing, and it's one of the things I'm trying to change as an African-American woman, Dany said. "I'm trying to get women to be more proactive in regard to their health, especially when it comes to breast cancer."
It wasn't until Dany was diagnosed in May 2012 that she discovered her grandmother and aunt were also a breast cancer survivors. Although others in her community are willing to live with a health issue and depart from this life silently, Dany cannot and will not accept the silence. Without an open dialogue, a cure will never be found.
Dany recently spoke at the Van Andel Institute's "A Conversation about Breast Cancer" luncheon, hosted by Carol Van Andel. Women at the luncheon received information about the latest advances in breast cancer research and treatment, and heard from leading cancer researchers and survivors. "African-American women are in the eightieth percentile to die from breast cancer," Dany said. A lack of resources for African-Americans, coupled with a lack of initiative on the part of women, makes them particularly vulnerable to the disease.
So, what should African-American women do?
"Check your boobs" and check them often, Dany said. If something seems abnormal, have it checked.

It's never too early for a mammogram. The number of women younger than forty years old that are diagnosed with breast cancer each year continues to increase. Dany was diagnosed when she was thirty-eight years old. "If you have breasts, have a mammogram."

Seek out resources and stay educated. Ask your doctor, go online, or seek advice from survivors. A great place to start is Dany's website, http://www.thecushy.com/.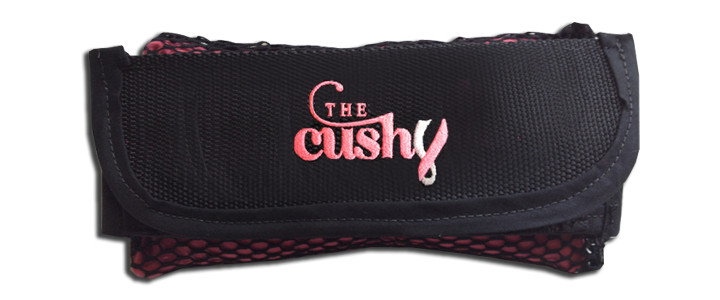 On her blog, Dany shares self-examination advice, inspirational notes, and first-hand accounts of her experiences with breast cancer. She also uses the site as a medium to sell her product—The Cushy. Invented to provide some sense of comfort during her post-mastectomy surgery, The Cushy is a seatbelt cover that shields the chest area from painful pressure and rubbing while driving. "With all of the women and men being diagnosed every year, someone or something (was) needed to comfort this group of people (and) still obtain the freedom to drive after surgery," Dany said. "I have made it my mission to help comfort patients with my product."
And she's making it her mission to snuff out the stigma of getting help when it is needed. "I feel lukcy, because my diagnosis was early and I was able to treat it without chemotherapy," Dany said. "I encourage women to be proactive and find out what is going on with their bodies."
Written by: Erika Rose is West Michigan Woman magazine's staff writer.