As we finish out the last full month of summer, it's time to schedule (at least) one more get-together! Summer in Michigan opens the door, quite literally, to options that are not available year-round to us —namely, outdoor entertaining. So, take advantage of these last few carefree weeks, gather some friends or family, and enjoy!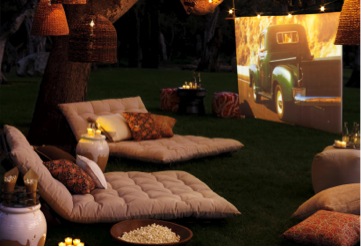 Backyard Movie Night
For a night that can be customized toward kids, adults, or both, a backyard movie is the way to go. Spread out the blankets, pass out the popcorn, and wait until dusk to get things started. We're all used to watching movies at home and in the theaters, but watching outside under the stars is a special event that you won't soon forget.
No way to make it happen in your own backyard? Head over to East Grand Rapids or downtown Grand Rapids, where movies will be shown outside on a big screen on select evenings! Photo: Pottery Barn
Outdoor Concert
West Michigan is filled with talented musicians and gorgeous locales to watch them. With the Fredrick Meijer Garden Concert Series and other options, there is still time to grab a chair and some friends and head out to hear amazing music.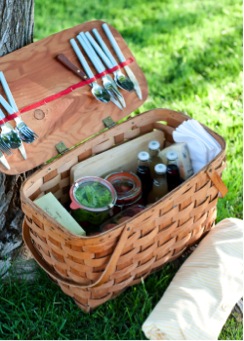 Picnic
Nothing says summer like eating al fresco. Keep it simple with a cheese plate and wine for two, or gather a group for a potluck in the park. In a rush? Head to the pre-made section of your grocery store for ready-made sandwiches, salads, or even sushi. Keep a blanket and Frisbee in your trunk to make spontaneous picnic nights a reality. Photo: Design Mom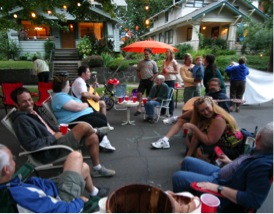 Block Party
Each year, our block hosts a party—and it's something that both the adults and kids look forward to all summer. It's a chance to safely bike in the street, stay up late, host a big potluck together, and just generally enjoy the neighborhood. Be sure to check out local requirements if you want to block off the street and discuss ideas for potluck and activities. Photo: While You Awake
Written by: Rebecca Lemon is the writer and founder of This Nest is Best, West Michigan event planning and design blog. Rebecca lives in Grand Rapids and enjoys celebrating milestone events from birthdays to anniversaries, new jobs to graduations, weddings to births, and everything in between.