For one weekend every summer, tens of thousands of people flock to Lake Michigan's shoreline—not for a beach getaway, but for a celebration of the arts.
This summer will be no different as the Lakeshore Art Festival returns to downtown Muskegon on July 6 and 7, 2018.
If you're imagining a quick stroll by pop-up tents in a park, it's time to summon your inner artist and get a bit more creative.
What began in 1961 as an art and craft show in Muskegon's historic Hackley Park has turned into a two-day bash that transforms the city's downtown into the ultimate art celebration—one that has been ranked among Sunshine Artist magazine's 200 Best Shows in the nation.
In addition to more than 150 fine art and fine craft exhibitors filling nearly every square inch of Hackley Park, crafters line the surrounding streets with their unique handcrafted items—including jewelry, lawn art, home décor, apparel and toys. Street performers stage enthralling performances with vocals, instruments, dancing, acrobatics and more. Food vendors serve everything from specialty-baked goods to festival favorites like elephant ears, gyros and fresh-squeezed lemonade. There are interactive art projects. A beer garden. A Children's Lane full of free activities.
"The Lakeshore Art Festival is a celebration of art on so many levels," said Carla Flanders, Lakeshore Art Festival Director, who has been planning and organizing the festival since 2013, when Muskegon Lakeshore Chamber of Commerce took Muskegon Art in the Park to the next level.
"When I first heard about the craft festival, I thought to myself, 'I don't want this to be just another craft fair,'" Flanders said. "I want this to be an exciting, entertaining, artful event that engages people to explore art in a unique way. I also wanted to offer an event that showed off our community and supported our growing downtown."
And it's a good thing Muskegon's downtown is growing. That makes room for the festival's ever-expanding footprint.
There are new strokes on the festival's canvas every year. After its corporate headquarters recently moved into Muskegon, the world's largest kayak manufacturer, KL Outdoor, donated seven kayaks for artists to convert into public sculptures. A record number of 448 exhibitors from across the country applied for this year's festival—exceeding the previous record by 122 exhibitors—so Flanders and her team expanded the festival's perimeter.
Yet it's not just the quantity of artwork the festival boasts.
It's quality.
Each year, art and craft exhibitors from around the country apply to show their work at the Lakeshore Art Festival. A group of industry professionals, artists and crafters blindly review each applicant's entry, then score the images and body of work on standards of quality, uniqueness and handcrafted appeal.
The result?
An exceptional level of artistry.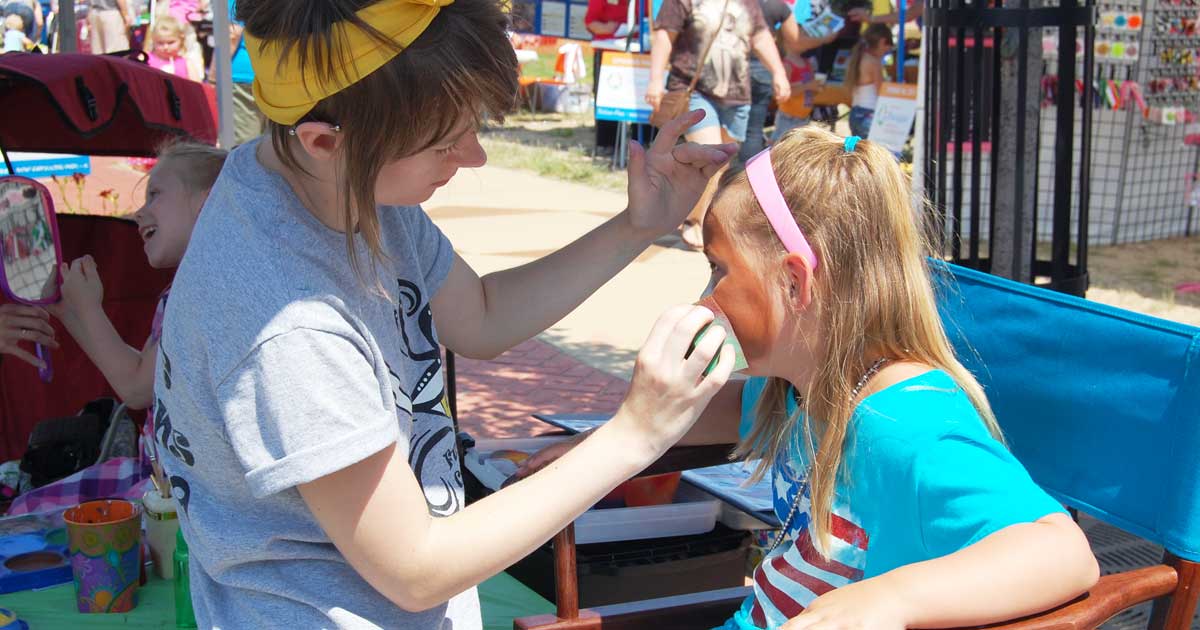 Make no mistake: The Lakeshore Art Festival's artistic stamp isn't just for the professionals. There's room for the public to get involved.
Working with the Muskegon Area Intermediate School District and Nuveen Art Center, the Lakeshore Art Festival is hosting its inaugural community Door Project. The project includes a collaboration of 15 local schools decorating or painting refurbished doors that will be displayed during the festival. There will also be "blank canvas" doors downtown, so the public can add their own personal touch.
Last year's Chalk the Walk, which supplied guests with chalk to brighten Western Avenue's pavement, will return on Friday evening this year.
With all the activity the Lakeshore Art Festival stirs up, Flanders' team is proud of how environmentally friendly the festival has become. They began with a recycling program for water bottles and grew the program to include cardboard and paper. All organic waste is composted, and the team requests food vendors use compostable serveware products.
Flanders notes the efforts have diverted tons of waste from local landfills, ensuring the festival's environmental footprint remains as small as possible while its impact on the community and its visitors continues to grow.
"In just five short years, with the help of the community and our fine art and craft exhibitors, we have grown this festival from nothing, to one of the country's top-rated festivals," Flanders said.
"Each year, it keeps getting better."
Photos courtesy of the Lakeshore Art Festival.