Does the thought of walking onto a lush green golf course, swinging your club, and missing the ball make you think "golf" is a rather objectionable four-letter word? Perhaps. But ponder the professional advantages: Do you want to play with the big boys (and girls)? Do you want to have fun and be part of the company outing, even if you aren't a golfer?
Golf is more than a game: It's a social opportunity. "Most of us aren't going to be par golfers," said Steve Scheuermann, owner and PGA golf professional at The Highlands Public Golf Club in Grand Rapids. "It's more about spending time with the family and friends we're with at that moment."
Golf could also be an asset professionally. "From a business sense, you can use golf as a relationship building tool," said Melanie Loughin, head women's golf coach at Davenport University and a PGA teaching professional at the Mines Golf Course in Grand Rapids. Golf allows you to network with colleagues in a relaxed, outdoor venue that prompts different discussions than in business meetings.
And golf is good for you. "Golf's a great long-term sport," said Amy Pollack, general manager and PGA professional at Boulder Greek Golf Club in Belmont. "It's not really intense exercise, but it stretches you, you move your body, and you're out there walking around. My grandma played at eighty-four years old!"
To eliminate beginner's frustration, Scheuermann recommends changing how you score yourself. "This is going to be your score: How many good shots do you think you hit during that round of golf? If you think you hit five good shots, your score is 5." A high traditional score can be disheartening, and it takes a lot of time and practice to drop that score. If you count just your good hits, it's easier to see improvement. "The score of 5 goes up much faster," he explained. "The next time it might be 6 or 7 and, ultimately, the big number starts coming down."
Golf is a game of muscle memory, Scheuermann adds. "The longer you go between swinging, the more likely it is that your muscles will forget." If you don't have time for the practice range, swing clubs in your backyard. "You don't even have to hit a ball. It just helps your muscles remember."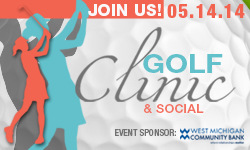 WMW Golf Clinic: Whether you're an avid or beginner golfer, join West Michigan Woman at the first WMW Golf Clinic, at Boulder Creek Golf Club, on May 14 at 3:30. Enjoy instruction, networking, cocktails, snacks, and a sneak peak at the spring 2014 golf clothing collection. Visit westmichiganwoman.com/golf for details.

Written by: The original version of this article was written by Kirsetin Morello, a freelance writer for West Michigan Woman.
Photo Courtesey of: freedigitalphotos.net